We love Conil!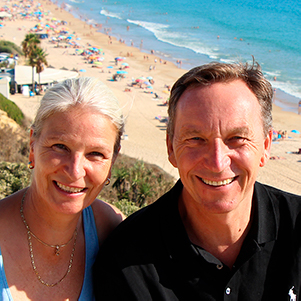 We have always been keen travellers and never spent our holidays at the same destination twice. Until we discovered Conil - and fell in love with it. We couldn't resist coming back, and finally decided to spend a whole year here with our two kids, and get the full experience of the Spanish way of life. This was in 2003 and yes, you guessed it, we're still here, and it feels like we are locals.

Since Thorsten had been in the real estate business back in Germany, the idea to open an agency was born in 2004, and since then Immo-Andaluz has been growing steadily into a successful sales agency. One year later, in 2004, we decided to start a holiday rental business as well and named it Casa de la Luz.
Why book with Casa de la Luz?
We are not an anonymous web portal, where you can't be sure who the local contact person actually is. During your stay in Conil, our friendly team will be here to look after you when you need it, and even if the office is closed, you will be able to reach us in an emergency.

All the properties displayed on this website are hand-picked, and we can advise you individually and in detail about each one of them. Special attention was given to present a varied selection of properties, so that each customer will find the perfect holiday home to match his preferences. From high-end luxury villas to charming Andalusian family cottages, town houses or apartments with stunning sun terraces, nothing is missing on our website.

We have prepared a personal travel guide with plenty of useful information, excellent restaurants, suggestions for memorable day trips, and much more. You can download the guide from our website and will find it in your rental property when you arrive.

Our mission is to make your stay in Conil as comfortable and worry-free as possible, so that you can enjoy your valuable holiday to the full.

Since we ourselves usually spend our family holidays in a rented property, we know what a relief it is to have a good local service to rely on.

If you have any queries or need information, please feel free to contact our friendly and competent team members Betty and Sina (both English spoken).

We hope you enjoy perusing our website! Can't find what you are looking for? Just send an email with your preferences, and we will be happy to make a few suggestions.
See you soon in Conil!
Thorsten and Dagmar Siering and the team of Casa de la Luz
Where to find our office in Conil
I agree to the processing of data (in particular my IP-address) and its transmission outside the EU by Google Maps and/or OpenStreetMaps in order to display the map.